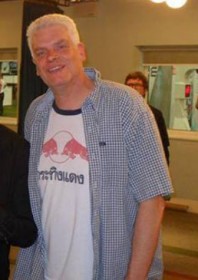 "I'd still rather watch an old (kung fu) film I haven't seen than a new one. I'd get more out of it."
It was awesome to meet with the great Toby Russell for the very first episode of the Kung Fu Movie Guide Podcast, as Toby is pretty much the perfect guest to have on our debut show.
A writer, director, actor and producer, Toby is the son of legendary British film maker Ken Russell and is probably the most knowledgeable person in the world on the subject of kung fu movies. London-born Toby grew up on his father's movie sets before his obsession for martial arts films led him to relocate to Hong Kong, where he managed to meet with many of the biggest kung fu film stars of all time, and then later to Taiwan, where he would predominantly work with the famed chopsocky director Robert Tai.
Alongside his business partner Ricky Baker, Toby helped to launch the Eastern Heroes video label and later the Hong Kong Legends DVD company in the UK, helping to release a number of sought-after cult classics into the European market place for the very first time. He continues to be instrumental in providing a platform for kung fu stars in the UK, giving performers like Jet Li, Chow Yun-fat, Donnie Yen and Gordon Liu their first public exposure in the UK.
He is the co-author of The Essential Guide to Hong Kong Movies and has released a two-volume compilation of classic kung fu film posters called The Art of Vengeance. Toby has produced a number of films including the Bruce Lee documentary Death by Misadventure and the Top Fighter films for the Eastern Heroes label. He has most recently directed an action film called White Tiger starring Don "The Dragon" Wilson and Cynthia Rothrock.
On this podcast, we talk to Toby about his first experiences on a movie set – working with The Who on his father's film, Tommy – and discuss Ken Russell's attempts to make his own kung fu movie. We discuss his youth in London, during which he convinced Sebastian Faulks to take his class to watch Snuff Bottle Connection, being told off by Tsui Hark, hanging out with Jackie Chan, and why ninja star Alexander Lo thinks kung fu movies are stupid. We also try and work out whether his new film, White Tiger, will ever be released. The song clip at the start of this podcast is a snippet from Oxygène, Part I by Jean-Michel Jarre, and is available to buy on iTunes here.