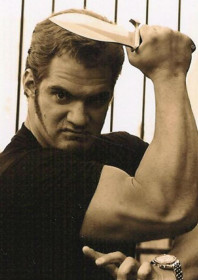 "I love this job. I'm so grateful I get to do this work. I never thought I was going to be doing this."
What better way to launch the second season of podcasts than with a chat to one of Hollywood's most beloved and prolific stunt co-ordinators, J.J. Perry. Jordan Andrew 'J.J.' Perry has been involved in some of the best action movies of the last 30 years, including work on huge Hollywood blockbusters likes Avatar, Iron Man, Star Trek Into Darkness, Transformers: Age of Extinction and the John Wick films. As a fight trainer, he has worked with the likes of Gina Carano for Haywire, Tom Hardy for Warrior, Gerard Butler for 300, Milla Jovovich for Ultraviolet and Hugh Jackman for X-Men Origins: Wolverine. His most recent films include work as the stunt co-ordinator on Ang Lee's Billy Lynn's Half Time Walk, The Fate of the Furious – the eighth film in the Fast and Furious franchise – and the Stephen King adaptation, The Dark Tower.
In this episode, we talk about J.J.'s ongoing work with Chad Stahelski and David Leitch at the 87eleven stunt team, including his most recent contributions to the extraordinary John Wick series. We also discuss his upbringing in Texas where he first discovered his love of taekwondo, becoming a highly decorated competitive fighter and instructor before pursuing a career in the army. We discuss his early work as a stuntman, before he landed key positions in TV shows like Walker: Texas Ranger and the Mortal Kombat franchise which helped him to cement his name in Hollywood.
J.J. Perry remains one of the most in-demand second unit directors, fight trainers and stunt co-ordinators currently working in the film business. In this frank and free-flowing discussion, we discuss how important it is to keep on top of trends in action cinema; the rise of MMA in both the sports arena and on film; what he has learnt from working with visionary directors like Steven Soderbergh, Quentin Tarantino and Ang Lee; and his thoughts on potentially directing his own project. J.J. Perry is a member of Stunts Unlimited and 87eleven. To find out more information about J.J. Perry (plus his full filmography), read our full profile here.