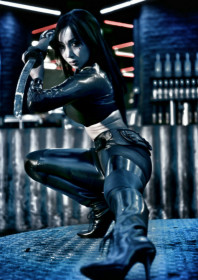 "Nothing is easy. But it is always possible to change; to make different choices."
Céline Tran continues to enjoy a remarkably diverse career, having gone from an adult film star to action hero following the release of her first martial arts feature film. She stars as the sword-wielding villain Madame Butterfly in the new Cambodian fight comedy, Jailbreak, which also stars Doctor Strange stuntman and choreographer Jean-Paul Ly. It's Cambodia's first martial arts film and it was a hit when it was released locally in January 2017, before being picked up by The Raid distributors XYZ Films for international release. The film showcases Céline's awesome martial arts skills, which can be seen right now on YouTube in a number of her great short films, including Burst (2014) – choreographed by France's Cinemaction Stunts, the fight team behind Luc Besson's Lucy (2014), the James Bond film Spectre (2015) and Jason Bourne (2016) – and 2016's Bladed Minds, which showcases Céline's skills with the Katana sword.
We discuss Céline's past as a professional adult film star, where she featured in around 350 films in a career spanning 13 years, becoming internationally famous under the name Katsuni. We discuss her former career as well as her many other interests which continue to take her career in interesting directions. As well as being an actor, she is also a writer of comic books, a DJ, a contortionist and an expert in circus skills, as well as a presenter and producer of self-defence videos, which can be found on her recently launched YouTube channel. She's a rising star of martial arts and action cinema and it was great to speak to her from her home in Paris for the podcast. For the latest information regarding Céline Tran, visit her website, Ma Vie de Ninja. You can also follow her on Twitter and Instagram.