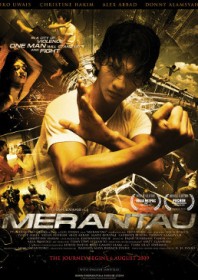 Grossly uneven action movie from Indonesia which wrestles an Ong-Bak-lite storyline with swathes of lingering, detached close-ups and absolutely no sense of urgency. Yet despite the flaws, Welsh director Gareth Evans can clearly film a decent fight scene, using his Indonesian cast to promote the traditional style of pencak silat – or, more specifically, the tiger form style of silat harimau – attempting to do for the art what Tony Jaa did for Muay Thai.
Iko Uwais even looks a bit like Tony Jaa (or maybe his kid brother). He leaves his farming family and simple village life in West Sumarta for the bright lights of Jakarta on a traditional coming-of-age journey referred to as his 'merantau'.
His mother's right to be worried. Iko hits the bright lights and immediately discovers his lodgings have been destroyed and his only contact has abandoned him. He sleeps illegally on a building site, befriending a distressed damsel in the form of nightclub dancer Jessica Sisca and her kid brother.
She's at the mercy of the club's management, a suited duo of western sex tourists with interchangeable accents running an undercover prostitution racket, something which Iko can't help but channel his vibrant silat skills in defeating.
His motive for such a sudden bloodlust is unclear, but at least it leads to some meaty confrontations with a never-ending supply of extras that are convincingly trounced like canon fodder in a typically post Ong-Bak fashion.
Iko Uwais is coy, charming and very watchable in his debut feature, injecting great vitality to the commendable action scenes with evidence that points to a bright future. It's a shame for him the film is so laboured and emotionally stunted.
AKA: Merantau Warrior